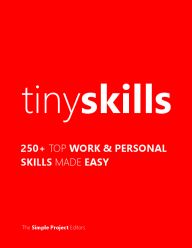 250+ Top Work & Personal Skills Made Easy
Succeed Faster Than Others
Tiny Skills is The First & Only Encyclopedia of Self-help, Self-improvement and Career Advice.
Use This Never-Before Book To Quickly Deal With Your Personal & Work Problems.
290 Easy-to-Follow Guides On 13 Types Of Essential Work & Personal Skills.
5000+ Bits Of Proven Advice Distilled From All Time Best Books & Experts. Get The Value of 100+ Books From 1.

550 Pages | PDF / EPub / Kindle Ready
Bonus 1.

100 Most Useful Acronyms That Teach Us: 100+ useful self improvement tips in form of popular acronyms.


Bonus 2.

200 Writing Tips From Great Writers: Essential writing advice from 40+ great writers.
Skills Matter.
Buy For Just $4

Why I Created Tiny Skills

Skills matter. Your degrees & technical skills aren't enough. Between making a living and surviving in an uncertain and highly competitive world, every modern professional has to constantly work on a lot of things to come out on top.
I have been working on an all-in-one book of advice since 2003, which would help all modern professionals save time and money with handy solutions to any problems they're facing at work or in life.
In creating Tiny Skills, I went through 1000+ books, just so you don't have to. I hope to help you quickly overcome any problem at work & in life.

How You Benefit From Tiny Skills
Tiny Skills Is The First & Only Encyclopedia of Self Help, Self Improvement & Career Advice.
Take it easy and give yourself a break. We are all doing our best in this uncertain world.